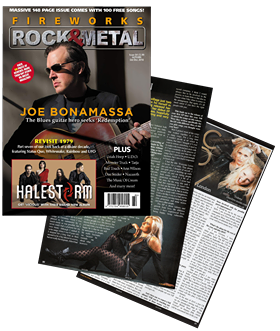 First Interview at the Fireworks Magazine
15 September 2018
Thanks to the Fireworks Magazine for featuring me in their latest edition. I feel honoured to be within the same magazine, where Joe Boanamassa is on the front page.
You can get the magazine in most WHS stores in UK or order it here:
---
---
"How did a young girl growing up in Germany develop such a love of 60s/70s Blues, Rock and Soul?
Both of my parents were musicians and for their gigs they had to prepare a lot music from that time. Of course it was also a lot of German roots music, but somehow that never touched me much, but American roots music did. I always felt connected to it. Especially when I discovered Tina Turner, the queen of Rhythm and Blues, later Rock'n'Roll. That big voice, the positive energy and her soul blew me away. I've been always influenced by powerful and emotional voices, where the singers are remarkable and a strong character. 
In Germany Blues wasn't really present when I grew up. The moment I felt in love with the Blues was actually in 2012, when I travelled to the states for the first time. America has always been my childhood dream and in 2012 I finally made my way to Chicago, where the music in the old live clubs enchanted me. There were those old musicians playing their instruments like heroes and singing about actually American history or deeply personal experiences. Then I knew, that Blues is what I like to do. 
You relocated to London … what was the pull that brought you here to the UK?
The music 🙂 I grew up in a small village in Germany, where I was already pleased to be surrounded by as much music as it was possible. But I never could find a platform for my own music. Although I started to write songs when I was 9 years old, I stopped it for a long time, as there seemed to be a big interest in covers, but not really into originals. 
After I had achieved all I wanted with the cover stuff, including tours in Asia, I knew, I had to leave my little hometown if I really want to become the artist that I always wanted to be. 
I first thought of America, which then seemed to be a bit too far away for the first move. I then discovered a degree course at the Metropolis studio in London, where world stars have recorded their hits. This seemed to be the best way to get to know the UK music industry.
I think, after I have heard, that Queen had recorded some of their albums there, I packed my bags 🙂 I love Queen and I wanted to study in the same halls, and luckily in 2016 I had the opportunity to do so. 
To be said, now my hometown shows a big interest in my music, as they admire the move I did. I think many artists have to leave their "comfort zone" first, to find a platform to grow. 
You have supported quite a few well-known artists in the Blues scene around London. What have those experiences been like, and have you managed to network a little for future projects?
I have to say, all the artists in the Blues scene, that I have met so far, they are all just amazingly cool people 🙂 I supported Chantel McGregor twice, and she is so lovely and inspiring.
Then I opened a festival for Walter Trout and had the honour to hand over an award to him. Walter is probably one of the nicest and coolest person ever. His history has shown, that he is a fighter. And when you meet him, you truly feel how happy he is, that he still can be surrounded by people. He really fascinates me, cause somehow he reminds me again, what matters in life.  
And yes, I have bothered both for any collaboration, 😀 Luckily they weren't bothered of me and reacted positively on it, but I can't say more as this is not official or fix yet 🙂
In general I am very blessed to say, that I could already build up such a big network. I have met incredible names of the industry, who either work back stage or on stage in the scene. One thing that is always important to me, that I feel connected to people and like them as human beings. They could be Michael Jacksons Manager, if I didn't like them, I would turn around. A network for me, is a bound of people in your life, where you enjoy their company. Luckily there is a lot of them in the UK Blues scene 🙂
Tell us about the recording of your first single, 'Caught In The Blues'. This was all done without record company backing, so how hard did you find it doing most of the hard work yourself?
Before I moved to London, I have been a quite experienced performer already, but recording and production was very new to me and very hard in the beginning, haha 🙂
And here again, without the right people, there wouldn't be a single yet. 
I met my young producer, Josh George, who believed in me so much. We both have grown with the process, but we managed to put our ideas together and at the end we were really happy with the result. 
Also the tutors from Metropolis were wonderful and helped a lot. 
I had a bunch of great musicians on it. Including my stepfather Thomas Helbig on the Hammond, who is a professional musician in Germany. And Mikey Christer on guitar, who belongs to the best guitarists in London, well for me, he is the best 🙂 
I don't know how it would be with a record company. I think I would always like to be involved in the process, to learn from it, but also as I know what I like when it comes to the arrangement, but again, it's all less hard if you have the right people with you. 
This will lead up to the release of your first EP later this year. Tell us about the songs on this release. Were they written specifically for the EP, with different vibes, or did you pick five of your songs you thought were your best?
Well I picked most of the songs, that suited together, as I have so many songs. For a long time, I couldn't decide at all, which songs. But then I thought, if I ever want to release something, I need to be decidable and just stick on them. You are constantly in the process of writing new songs and then the old songs don't seem to be good enough anymore, but I find it also important to finish stuff. I left one song, where I knew, I will write it especially for the EP. 
I had the title for a while "Everyone loves a secret". That phrase just got me. I thought of myself, I think I am quite good to build up walls around me and not to let people look inside me, which is more a protection mechanism. But as a fact, we can't really look inside people, can't we?
I never had the story to it, until this experience: It wasn't very fun to find out the truth about someone you really believed in, but in reality he kept a secret with consequences. I felt a bit like in a bad movie. Some secrets you may keep for your own protection, and some secrets can harm other people. 
The EP is about failures and growth from love, the different stories I have experienced from being happy, being vulnerable, up and down. Relationships to people is what can give me energy or pull me down the most. But I see the EP as a release, not a revenge, as I chose songs that stand for courage, honesty and moving forward. 
So there is an ongoing story in the EP, with a positive message at the end 🙂
You have a good working relationship with Helen Hurd. How did you guys first get together?
Funny enough, she was playing with her band in a venue in London, and it was my first Rock Gig as a visitor in London. 
We then have mutual friends, so we got in touch. I always loved her energy on stage, I call her my "hair flipping queen" in London 🙂 
It was then destiny I guess, that we both released our debut Singles on December the 6th 2017, without knowing it.
She then got in touch with me, and said, she had that idea of two blondes doing a live event, as we seemed to have similar paths. So we met and realised, that we work very well together. I really enjoy to work with her, she is creative but also extremely straight forward. If she has a vision, she works hard on it, which I really like. Therefore we harmonise really well with each other. Meanwhile I can say, she has become a very good friend of mine as well. 
You talk about "the importance of simple things in life: family, friends, sexuality."  Do you view sexuality as an important part of the music business, whether with songs and lyrics, and also image? 
Oh yes, for me sexuality is expression and identity. 
It is a big topic in music, but I would say in every industry. 
The more I have grown as a woman, the more I have developed that image of sexuality in my branding. The reason for it was: I grew up as a very shy girl, no sense for femininity or good looking. I felt very often "invisible" and if I don't, I wish I was, cause I didn't feel comfortable at all with myself. 
But I could observe a lot in that time. I could see, that those people who get attention and got far, where people with confidence and with a look. I then developed myself, step by step became a woman and experienced some interesting changes. Me being a blond girl, blue eyes, and having a bit of a bust size, immediately had a lot of attention but was pigeonholed. I have always worked in a male dominated scene, but prejudices came from men and women! So I suddenly struggled how to deal with the newly gained self confidence and look and somehow felt, being invisible wasn't too bad. I worked in businesses where they discussed whether a woman can wear a short skirt or not, and on stage you were supposed to be the sexual attraction and the shorter, the better. And that was the moment, where I said, I don't care anymore, what other people say, I am the way I am and I wear what I love to wear. 
So my sexuality have become my expression of self esteem.
I often had the discussion with Helen Hurd. We are both blond women in a tough industry and still deal with many prejudices. But you learn how to cope with it and to use your sexuality as a weapon, not as a victim. Helen and me are both band leaders, we do the management, we are our own roadies and we entertain the crowd. Maybe they have a prejudice in the first place, but as soon as they start to work with us, see us on stage or what ever, they turn their prejudice into a respect. 
I also don't like that new trend to "womenpower". Most of the people I work with, are men and they are lovely. We should all start to not judge people of their sexual identity, if they are men, women, gay, lesbian, open minded or conservative, but to see the potential in each one and focus on equality. 
But sexuality is who you are and how you present yourself, how you attract people and how they react on you. For me sexuality is to get the attention to express my liberty, values and feelings, and the respect that I have deserved for being myself. This is also how I treat other people and encourage people to stand up for theirselves. 
Tell us about the release party you are having for the EP.
I am super excited about that. It will be on September the 27th at the Underbelly in london, together with Helen Hurd. We call the Night: Toxic Gold- A night of Blues and Rock.
We have a support act, then two full live bands from Helen and me. Plus we have a specially written song for it.
Tickets are available on our Homepages. Also we have some lotteries, where people can win VIP packages etc. 
And when can we expect a full album? Will you be reaching out to some of these names you've been involved with for possible guest appearances?
It should be out by the end of 2019. I am recording and writing constantly on it. I have already asked some great Blues artists, to play on my album, so definelty there will be some well known names on it 🙂
What's the plans for the rest of the year, and into 2019?
As I am German, I have many plans, as we Germans just love plans. Haha 😀 
The EP is available on September the 27th as a physical CD on my homepage, the digital release will be a few weeks later. 
Then in October I will be away for a month in Hongkong, where I will support a German band for their show. In that month I plan to write new material, as we have plenty of time in the daytime.
In December I will have a new single release, with a ballade that has a big meaning to me. I have written that song for a friend of mine who sadly died a couple of month ago.
One new project I am super excited about is: Together with Solid Entertainments I will be hosting a big Eva Cassidy tribute night. She is another of my big idols, but sadly she never could get the success she has deserved, before she died. Now to honour her talent it was my idea to set up a huge night for her, which will take place in December or January. 
Beginning of 2019 a first UK tour is planned, starting with a slot on the the introduction stage at "The Great British Rock and Blues Festival" on January the 20th 2019, which will be announced later in the year
---
BACK TO NEWS